Ceará

topographic map

Click on the map to display elevation.
About this map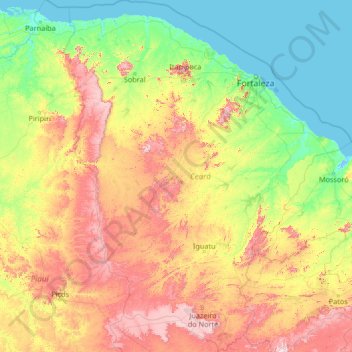 Minimum elevation: -3 m
Maximum elevation: 1,144 m
Ceará lies partly upon the northeast slope of the Brazilian Highlands, and partly upon the sandy coastal plain. Its surface is a succession of great terraces, facing north and northeast, formed by the denudation of the ancient sandstone plateau which once covered this part of the continent; the terraces are seamed by watercourses, and their valleys are broken by hills and ranges of highlands. The latter are the remains of the ancient plateau, capped with horizontal strata of sandstone, with a uniform altitude of 2,000 to 2,400 feet (610 to 730 m). The flat top of such a range is called a chapada or taboleira, and its width in places is from 32 to 56 miles (51 to 90 km). The boundary line with Piauí follows one of these ranges, the Serra de Ibiapaba, which unites with another range on the southern boundary of the state, known as the Serra do Araripe. Another range, or escarpment, crosses the state from east to west, but is broken into two principal divisions, each having several local names. These ranges are not continuous, the breaking down of the ancient plateau having been irregular and uneven.
Other topographic maps
Click on a map to view its topography, its elevation and its terrain.