Western Cape

topographic map

Click on the map to display elevation.
About this map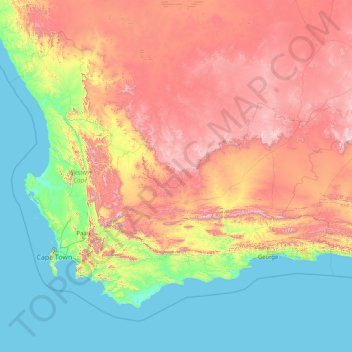 Minimum elevation: -1 m
Maximum elevation: 2,152 m
The province is topographically exceptionally diverse. Most of the province falls within the Cape Fold Belt, a set of nearly parallel ranges of sandstone folded mountains of Cambrian-Ordovician age (the age of the rocks is from 510 to about 330 million years ago; their folding into mountains occurred about 350 to about 270 million years ago). The height of the mountain peaks in the different ranges varies from 1000 m to 2300 m. The valleys between ranges are generally very fertile, as they contain the weathered loamy soils of the Bokkeveld mudstones (see the diagrams below).
Other topographic maps
Click on a map to view its topography, its elevation and its terrain.