South Africa

topographic map

Click on the map to display elevation.
About this map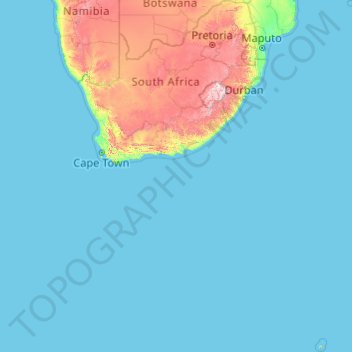 Minimum elevation: -2 m
Maximum elevation: 3,270 m
South Africa is in southernmost Africa, with a coastline that stretches more than 2,500 km (1,553 mi) and along two oceans (the South Atlantic and the Indian). At 1,219,912 km2 (471,011 sq mi), South Africa is the 24th-largest country in the world. Excluding the Prince Edward Islands, the country lies between latitudes 22° and 35°S, and longitudes 16° and 33°E. The interior of South Africa consists of a large, in most places almost flat plateau with an altitude of between 1,000 m (3,300 ft) and 2,100 m (6,900 ft), highest in the east and sloping gently downwards towards the west and north, and slightly so to the south and south-west. This plateau is surrounded by the Great Escarpment whose eastern, and highest, stretch is known as the Drakensberg. Mafadi in the Drakensberg at 3,450 m (11,320 ft) is the highest peak. The KwaZulu-Natal–Lesotho international border is formed by the highest portion of the Great Escarpment which reaches an altitude of over 3,000 m (9,800 ft).
Other topographic maps
Click on a map to view its topography, its elevation and its terrain.